Legal Advantages of Economic Activities in Arvand
Specific provisions for the employment of workforce in the free zone and the availability of skilled, productive and cheap human resources.
Export of goods without paying customs duties.
Use of value added law for the transfer of goods produced in Arvand free zone to the mainland to one hundred percent of production.
Specific rules for insurance and social security in Free Zones.
20- Years tax exemption for all activities in every field.
The possibility of partnerships with foreign investors without restriction in the participation rate
100% ownership of foreign investors in relation to the newly constructed lands in the land rental areas.
The possibility of having hundred percent share of the registered company by foreign investors
Freedom of transferring currency abroad without any restriction.
Support and Guarantee of Foreign Investments
Establishment of foreign banks and insurance
Specific regulations on Exports, Imports and Customs
Lack of visa requirements and ease of issuance of foreigners' entry and remain permits.
Competitive Advantages of Arvand
The area of 37400 hectares
Industrial and Commercial Background of the Region
A combination of experienced, young and educated human resources, especially in the industrial and commercial fields.
Having marine and land border with Iraq and easy access to the Persian Gulf market.
Access to the large market and internal population of Abadan and Khorramshahr (500 thousand), Population of Khuzestan ( 4 million) and the 28 million population of Iraq
The nearest free zone to the main center of population, industry, agriculture and mines of the country
Freshwater of Arvand, Karoon and Bahmanshir Rivers with Shipping Capability
Four types of Road, Rail, Air and Marine transport in the region
Production of approximately 90% of the country's hydroelectric power in Khuzestan province
Cheap energy and labor, especially for foreign investment in the region.
Having the second container port of the country (Khorramshahr), Abadan Port and the possibility of transit of goods to the countries of the region and the countries of Central Asia as the closest port and the most convenient and shortest transit route for the north-south of the country.
Industrial, commercial and urban facilities and infrastructures.
Fertility of the riverside land soils to expand agricultural production
Shalamcheh border terminal in Arvand Free Zone.
Annual visit of up to 2 million people visiting Shalamcheh Shrine
Abadan International Airport in Arvand Free Zone.
Existence of the largest passenger terminal of the country in Khorramshahr port and establishment of regular shipping lines to neighboring countries.
Existence of 450 thousand barrels refinery of Abadan in Arvand Free Zone.
Existence of Great scaffolding facilities of Ministry of Oil in the region
Abadan Petrochemical Company in Arvand Free Zone
Availability of Good Hotels in the Free Zone
High population capacity in the region.
The proximity to Imam Khomeini port and the special economic zone of petrochemical and the port of Mahshahr and the possibility of using the facilities of those areas.
Existence of beautiful Island of Minou in Arvand Free Zone.
Familiarity of residents with several languages.
The existence of universities and institutes of higher education with a long history in the region.
Existence of more than 100 companies and factories such as petrochemicals, oil facilities, rolling, shipbuilding, flour, wood industry, food, soap making, power generation and etc. in the region.
Having suitable climatic conditions eight months of the year.
Common language, culture and relatives of people of the region with neighboring countries.
Located between the two oil poles of the Middle East, the oil-rich regions of southern Iran and the oil-rich regions of southern Iraq
Proximity to large Cultivation companies, Sugarcane development and its related industries.
Adjacent to Hoor and beautiful wetland of Shadegan
The presence of large ship building and vessel repairing companies in the free zone.
Proximity to Ahwaz steel and pipe rolling industries.
Major steel construction projects in Arvand
Investment opportunities and fields
Oil, gas, petrochemical and downstream industries
Supporting industries, technical and engineering services of oil industry
Steel Industry
Transportation and transit of goods
Tourism and Recreation
Higher education
Telecommunications
Energy production
Bank and insurance
Parts industry
Automotive
Shipbuilding, construction of marine equipment and structures
Goods transit
Conversion and packaging industries
Textile, leather and clothing industries
Chemical industries
Electrical and electronic industries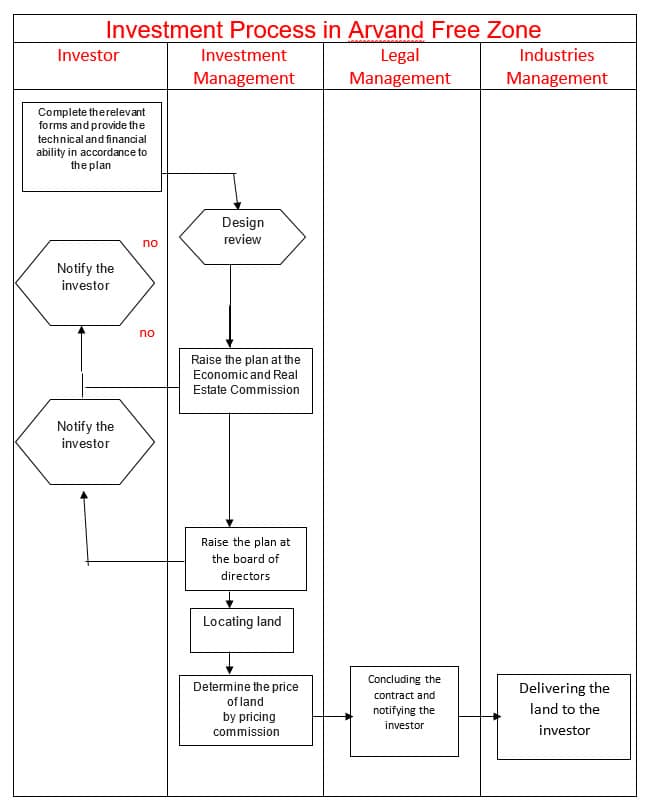 Relative Benefits of Industrial Investments in Arvand
Tax exemption for all economic activities for 20 years from the date of operation
Freedom of participation and foreign investment of any share of the stock
Sale and lease of land to domestic investors and lease of land to foreign investors
Exemption from payment of customs duties and commercial benefits for the import of raw materials, machinery and spare parts for industrial activities in the region
The possibility of exporting goods produced in the region to other parts of the country within the framework of the value added system
Neighboring Iraq and the possibility of transit and export of goods to this country through Shalamcheh Frontier crossing, Khorramshahr Railway, Basra, Arvand River and Khorramshahr Port
Access to the Persian Gulf and free waters through Arvand River
Connection to the country's road transportation network
Connecting to the national rail network through Khorramshahr railway station
The presence of Khorramshahr port as the second container port of the country, port of Abadan in the area and close to the port of Imam Khomeini (RA)
International airport operating with regular domestic and foreign flights
Connection to the National Power Grid
Benefit from freshwater and extensive land area